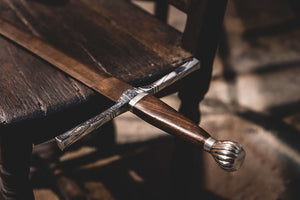 We strive to provide our consumers with the highest-quality of handmade products.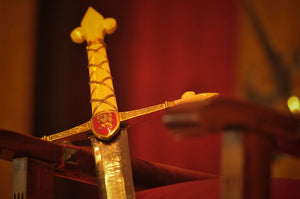 Each product made by us carries its unique "finger-print"
BEST QUALITY ANIME GUTS SWORD
Replica Swords, gimli helmet, trunks sword real and video game weapon replicas
Swift Dealers
Swift Dealers provides the highest-quality of handmade reproduction. Our catalog includes medieval and fantasy weapons sword. Each product made by us carries its unique "finger-print" as we hand forge each item. We have Bat'leths, historical replica swords, Gimli's helmet, Trunk's sword. Visit our Swift Dealers Store. One of the greatest benefits that our customers can avail is the best quality at the best prices. That simply means that we provide high-quality blades at pocket-friendly prices.
Buy Anime Sword Replicas & Lord Of The Rings
We at Swift Dealers make first-rate medieval axes, swords, and knives that are delivered at your doorstep with free shipping. Swift Dealers are situated in Brooklyn, USA. At Swift Dealers, we have the finest assortment of high-quality video game swords, such as Keyblades, Anime sword, Thundercats sword, LOTR swords, and Sephiroth sword, to name a few.
we strive to provide our consumers handmade products
We have a large variety of swords such as, Alexander the great's sword, Trunk's sword, swords from Final Fantasy, Klingon Bat'leth, Dragon Slayer sword, Masamune sword, and historical swords based on real museum pieces. Swift dealers also has a vast range of classic axes from history and media offered at competitive prices.
★★★★★

Ordered a Knights Templar Sword for Father's Day. Arrived in time. Husband had tears in his eyes when he saw the sword. Will be ordering again from this company.

M. Richmond-Isaacsen
★★★★★

This sword is much better than I expected! It has exceeded my expectations! It also comes with a small Narnian shield to hang as a decoration! It took 1 month to arrive, because it had stayed in customs, but I loved it!!! Thanks a lot

Harry
★★★★★

I gotta clean it with some WD-40 and a micro fiber cloth, but it's so freaking cool! It'll be even cooler and shinier once I buff it out! Definitely a step-up from your common gift store prop. Overall, I'm glad I ordered it. It was worth the money.

Hemman
★★★★★

Sword was exactly like the one pictured. Lightweight, great craftsmanship. Amazing customer service. Couldn't be happier with this item.

Adriana
Do you have more questions?
Find us here:
⚐ Swift Dealers 1842 Bath Ave Brooklyn,
NY, 11214